The Niche Parent Network & Conference is a diverse and influential community of over 1,500 bloggers and digital influencers that create high-quality content on many topics from parenting, fitness, entrepreneurship, cause issues, fashion, technology and more. We pair our community members to brands, causes, and marketers to create social buzz and drive sales on behalf of our clients. We deliver measurable results for each campaign and can execute campaigns with a total market, general market, or multicultural/Latino focus. Each campaign is customized to meet the client's needs. Our influencers use their authentic voices and social media expertise to create original stories at scale, most often across multiple social media platforms.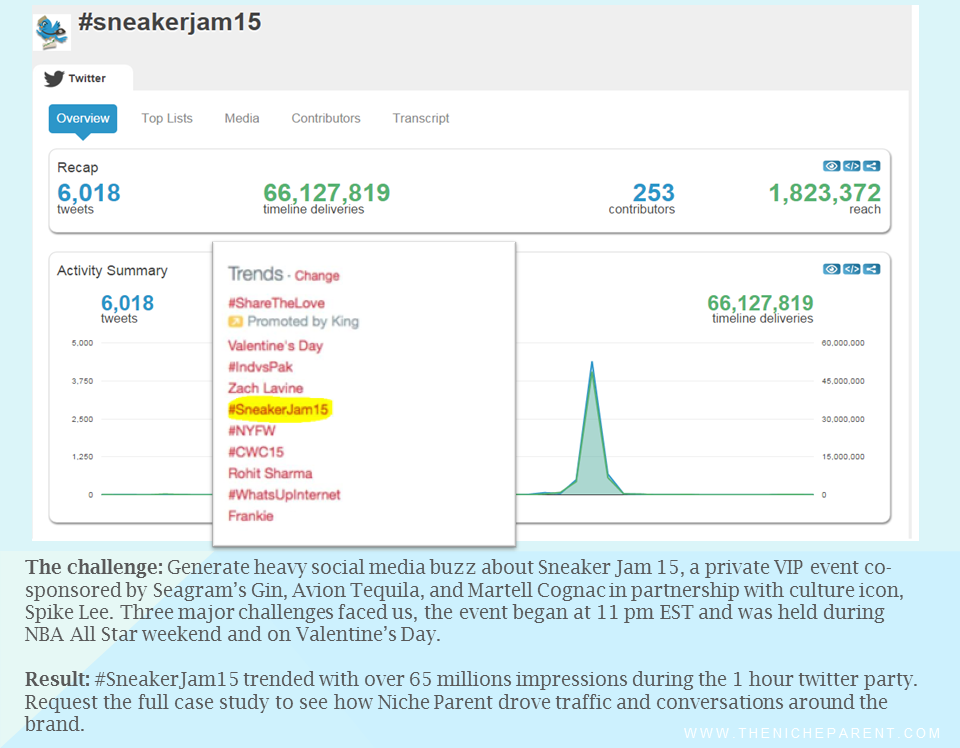 The Influential Network of Bloggers & Digital Influencers
The Niche Parent Network provides content marketing for brands that want to leverage social media influencers to drive sales and build brand loyalty, launch or promote their products or causes to a diverse group of multi-influential socially savvy moms and dads.
As a social media strategist, Niche Parent Network founder Nadia Jones knows how to match  the right influencers for your campaign, brand, or non-profit.
"Social media has become so pervasive [among moms], it's now fundamental to the way today's moms live their lives. Today's mom is the most influential and social consumer you'll meet."-  Source –Bazaar Voice
The Niche Parent Network consists of registered bloggers and online influencers that can be segmented by a number of factors including number of children, geographical location, influence, blogging topics, audience, and more.
The network collectively boasts nearly 30  million page views per month and over 2.5 million twitter followers;
Network members are a diverse group of bloggers; African-American, Latina, Caucasian, Asian, bi-cultural, or multicultural;
Our bloggers cover a variety of niches from parenting to technology to pop culture and more.
Network members include approximately 15% non-parents as well.

What The Niche Parent Network Does Best
The Niche Parent Network partners with agencies and brands interested in leveraging moms and dads that blog and his or her loyal readers. Opportunities include:
Sponsored Blog Posts Campaigns at Scale. Carefully selected bloggers will provide content on their blogs to promote your brand or product, help build SEO, and generate consumer awareness;
Twitter Parties. We will organize, promote, and implement Twitter Parties with carefully selected bloggers as co-hosts. We can amplify your brand's event with an on-line conversation;
Advertising.We select online publishers to implement hot words, push down ads, and digital ads;
Blog Ambassador Programs. We will match your brand or product with a team of bloggers that have shared interests and are excited to represent your brand or cause by providing regular content on a frequent basis.
Live Branded Events.  Many brands, companies, and non-profits are choosing to host events with influential bloggers as guests. We can assist with all aspects of the event planning from selecting the right attendees to designing the event.
To start marketing your brand and products through a powerful group of bloggers, or to request case studies list of previous clients, and other opportunities, contact Nadia Jones at nadia[at]thenicheparent.com.
Recent Clients & Campaigns