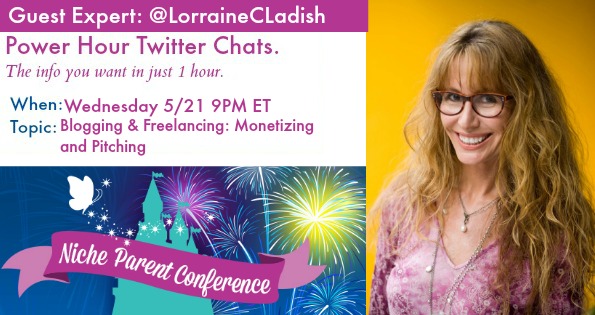 16 May

Freelancing For Bloggers
We are so excited to announce our next #NicheParent14 Twitter chat Power Hour! Many bloggers want to learn new and different ways to monetize their blogs. Freelance writing is certainly one of those ways. With some publications paying as much as $1.00+ per word, the pay rate and consistent work can make a significant impact on income!
For our upcoming #NicheParent14 Power Hour Twitter Chat, we will discuss just how to do that.  Topics to be discussed include pitching  and work with editors to your favorite magazine or news source, how to negotiate pay, differences between a blog post and an article submitted to print or digital publications, and more!
Our expert host for this chat is Lorraine C. Ladish, founder and editor-in-chief of Viva Fifty. Lorraine  is a bilingual author of 17 books, writer and editor, and was most recently Editor-in-Chief of Mamiverse.com, the award-winning online hub for Latina moms. She has contributed to People en Español, La Palma of The Palm Beach Post, NBC Latino, Babycenter and Redbook, and was the managing editor of VOXXI Mujer, an online news site for English-speaking Hispanics. She spoke last year at #NicheParent13 on packed session on this topic. We're so excited to have Lorraine join us again!
Say hello to Lorraine on Twitter and Facebook. Be sure to give her a like or follow before our chat!Joining us? RSVP on Facebook here.