Getting To The Westin Diplomat Resort & Spa:
Address: 3555 South Ocean Drive • Hollywood, FL 33019 · United States • Phone: 954-602-6000
The Westin Diplomat Resort & Spa is located just off of Interstate 95, only a short drive from both the Fort Lauderdale/Hollywood International Airport and the Miami International Airport.
Self Parking is available for a rate of $20 per day.
By Air
The resort is easily reached by flying into one of the two major international airports nearby. We are just 30 minutes by car north of Miami International (MIA) and a short 15-minute drive south from Fort Lauderdale/Hollywood International Airport (FLL).
All major domestic and international airlines serve Miami International, whereas most domestic and a few select international carriers fly into Fort Lauderdale. Car rentals with many major companies can be conveniently arranged from both airports, and taxi service is just as easily accessed.
By Taxi
Follow signs in either airport for ground transportation and taxi service. Fares range from $60 to $80 one way to/from Miami International and from $25 to $35 one way to/from Fort Lauderdale/Hollywood International Airport.
Getting Around
A wide range of rental car companies are available at both nearby airports. Additionally, Hertz is located conveniently across from the resort at The Diplomat Landing. For rental reservations and information please contact them directly at (954) 454-8914.
Within our resort, USA Transportation, a transportation agency can arrange full-service ground transportation options, including limousines, town cars and expeditions. Please ask at our concierge or call directly for reservations and information at (954) 602-8990.
Resort Pool & Beach
The resort offers two very large and unique outdoor pool options open 24 hours. The 120-ft Infinity pool has a one-of-a-kind circular, see-through feature and two water falls flowing into the 240-ft Lagoon pool below. Ideal for our youngest guests, the Infinity pool is also filled with saline water which has fewer chemicals and has a softer feel against their delicate skin. This pool's 6 inch shallow end provides a perfect splash area too! For those wishing to swim long laps or float on a raft through the waterfalls, step (no diving please) into our Lagoon pool.
The resort is right on the Atlantic Ocean.  Plan to dip your feet in the ocean at least once while you're there!
Experience "Fork" Lauderdale!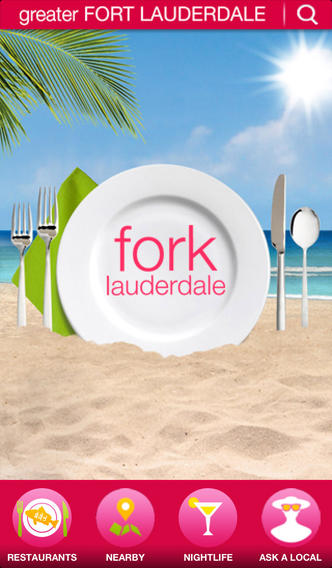 Taste buds sizzle under the sun. Explore Greater Fort Lauderdale's culinary and nightlife scene, including romantic waterfront restaurants, trendy steakhouses, Sunday brunches, sports bars, wine bars and more. Download the Fork Lauderdale app for nearby restaurants, events, and bars. Get local!
GG's Waterfront Bar & Grill (5 minutes) – Treat yourself to seafood and memorable sunsets.
Lola's on Harrison (10 minutes) – Enjoy a creative twist on contemporary American cuisine.
Fulvio's 1990 (10 minutes) – Indulge in classic Italian food in an upscale atmosphere.
Downtown Hollywood (10 minutes) – Hollywood comes alive at night with monthly art festivals, weekly food events and dozens of delectable restaurants. Take advantage of the bars and clubs that are just steps apart from each other.
Las Olas Boulevard (20 minutes) – From big restaurants such as The Cheesecake Factory to organic eateries and Brazilian steakhouses, Las Olas Boulevard is an eclectic dining district. Unwind in the late night at one of the many newly-opened pubs, bars or lounges.
Riverwalk (20 minutes) – Known as the Club District of Fort Lauderdale, Riverwalk also has a selection of pizza, sushi and Italian restaurants that do not disappoint. Choose from Top-40, Hip-Hop, Latin, Middle Eastern themed and Caribbean clubs to have an energizing night.
Special Events & RSVPS
We have two events where space is limited. Mommy Uncensored and Paddle Boarding.  These events are open to anyone with a full-access pass including our business partners and brand representatives. They are first come, first served. Please check the agenda for RSVP links and space limitations.
Cocktail Networking Events
We will be serving appetizers and cocktails during our cocktail receptions.  Drink tickets will be available to conference attendees. Cash bar available for additional drinks. Please bring plenty of business cards for the events to mix and mingle. If you are unable to attend the day-time sessions and workshops but would like to mix and mingle with our attendees, business partners, and brand reps, you may purchase a networking pass here.
Children & Plus Ones
The resort is child friendly and offers a Kid Zone for a fee. Please make reservations with the hotel if you'd like to use these services. If you have children attending, we ask that out of respect of our speakers, they do not cause a disturbance.  Lap babies welcome (Especially cute, chubby ones.)
If you have a plus one interested in attending our cocktail events, they are welcome to purchase a networking pass for $65.00 for access to all evening events.  Passes available on our Eventbrite page.
Media Inquiries & Attendance
We have several member of the media that will be in attendance. We welcome them to our event! If you are a member of the media interested in attending, please contact Kourtney Wesley or Cristin Jordan at First Strike PR, kwesley [AT] firststrikepr.com, cjordan[AT]firststrikepr.com, subject line: Niche Parent Media Inquiry. Limited passes remaining.