29 May

The Niche Mommy Supports the Digital Family Summit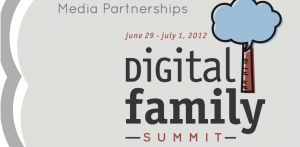 The Niche Mommy Network & Conference is happy to collaborate with Digital Family Summit through a media partnership.  A great summit for the whole family to attend, learn, and share on hot topics in the digital industry.  The Digital Family Summit, a first of its kind, will be held on June 29 – July 1, 2012 in Philadelphia.
Make it a family experience.  This summit will bring together hundreds of influential parent, teen and tween bloggers from digital families.  At this interactive, hands-on summit teens and tweens will meet other young bloggers, videographers, or kidpreneurs and experience interactive sessions on blogging, video creation, Twitter, Facebook and other social media platforms to take their skills to the next level.  Parents will hear from experts about keeping kids safe online, learn how to teach kids social media skills and discuss digital activities that families can do together.
Want to learn more?  Be sure to check out the summit's session lineup and speakers.  Early bird registration ends on May 31st.  Help us promote this event and engage your audience in a new experience at the Digital Family Summit.
BONUS!  Niche Mommy Network members get a 25% discount…use registration code NICHE.