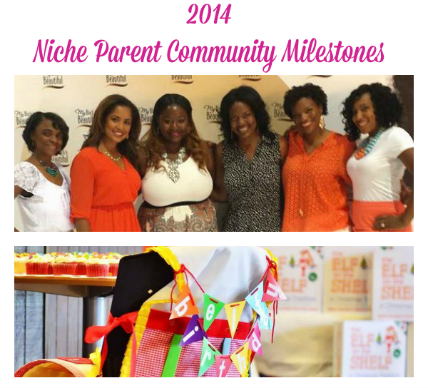 05 Jan

2014 Milestones for the Niche Parent Community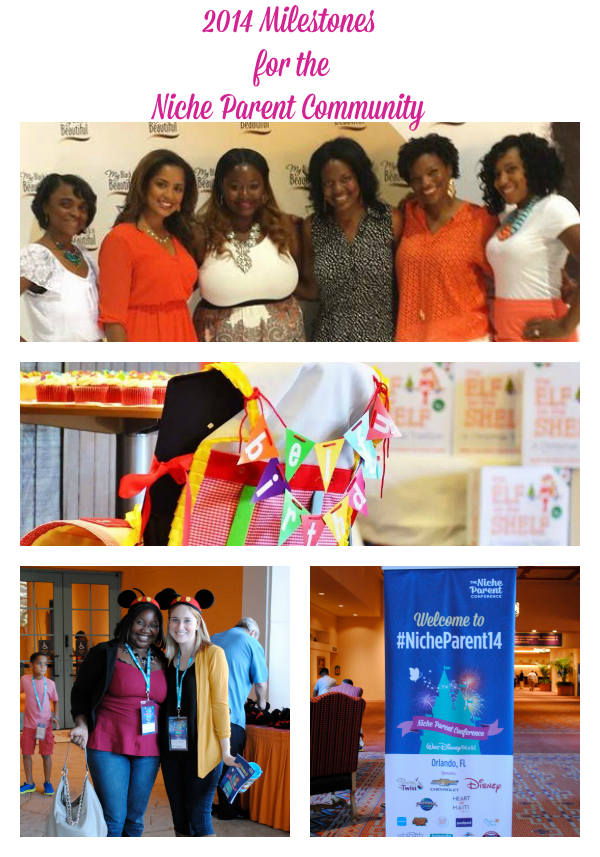 What a whirlwind year we've had with our Niche Parent Community Members. Even before our #NicheParent14 Conference at Walt Disney World, we had plenty of opportunities to connect with each other and family-friendly brands.  We're looking forward to 2015 with even more opportunities for our 1,400+ digital parents to connect with each other and brands. Be sure to join the Niche Parent Community and follow community news on our Facebook page.
In May,  we announced  our #NicheParent14 Ambassadors to help get the community energized and informed about all of the conference news. With our first conference at Walt Disney World there were plenty of logistics and updates to share with our community. The ambassadors did an amazing job!
In July, six Niche Parent influencers attended the Essence Music Festival in New Orleans and served as #MBIB social media correspondents.  They interviewed several celebrities and shared their experience with their audiences.
July also meant the kick off of local meet ups with Elf on the Shelf  to celebrate a Birthday Tradition in Atlanta, New York, Los Angeles, Puerto Rico, Nashville, Philly  and Columbia, SC.
In October, over 200 digital parents arrived at Walt Disney World's Coronado Springs Resort for the #NicheParent14 Conference. Our three day conference left Niche Parent Community Members energized and focused on the business of blogging. The first day of the conference included the holiday expo with a preview of useful gift ideas. Our evenings were filled with fun hosted by Animal Kingdom, Universal Studio's The Blue Man Group and Sea World.

Our community members are also celebrating milestones in 2014:
– Selected as first blogger featured as "Hot Spa Mom" blog
– Developed and executed the Niche Parent seven city meetups including Elf on The Shelf events
–  Colgate Brand Ambassador
–  Represented Niche Parent Network at Essence Music Festival
–  Created and presented a blogging series for National Association of Professional Women Atlanta
–  Became President of National Association of Professional for Professional Women
–  Featured by National Association of Professional Women as a VIP Woman of The Year.
"These accomplishments made me feel grateful and amazed at the energy I had put out. Very grateful."
Yoly Mason –  @YolyMason 
"This is not your normal blogging calendar! Nope, it's so much more. Starts with an action-book (yes, I called it that because you MUST take action) that will have you go step by step to set your goals and priorities for you blog 2015. Then we break the goals in blog posts and more."
 Besides attending #NicheParent 14, Diana is proud to announce  " I won a
blogger award for MomsRising
for the work I do as part of the Good Food Force!"
"This year I spoke at three conferences:
 – #BloggerWeek (Digital Monetization)
 – #NicheParent14 (Content Creation) #DisneyWorld (yes, same as Niche, but I specifically had Disney on my vision board and it came to fruition!)
– Be Blogalicious  (two topics: Content Creation and Being Authentically You)
I am in the book:
What's Your Vision? A Guide For Designing The Life Of Your Dreams With Vision Boards
(and how super cool that most of my 2014 visions were met?).
Attended the Oprah Life You Want Tour in New Jersey as press!  That was pretty amazing.
Started working with Grown Zone.
Named Director of Operations for #MentorMonday, launched #MentorMondayMastermind which is 600 people in 70 masterminds, and hosted the 1-Day Intensive Mastermind.
Got to travel with my daughter on the train and the bus…I prefer the train if we can't fly.  She visited Disney World for her fourth time on my blogger credentials and that was ah-freaking-mazing!  Even more amazing is she never went to one of the parks, but had the most wonderful time networking with the Niche Parent community at the conference space and various activities throughout Orlando.
And best of all…is I have learned that I have earned my seat at the table. I can hold my own with the best of them, I know "my stuff" and what I don't know, I've built the framework and team to get the answers.
 Jana had a great time at the #NicheParent14 conference and created a painting thanks to Painting with a Twist.
Her other 2014 milestones?