13 Feb

Join us for #SneakerJam15 Twitter Party!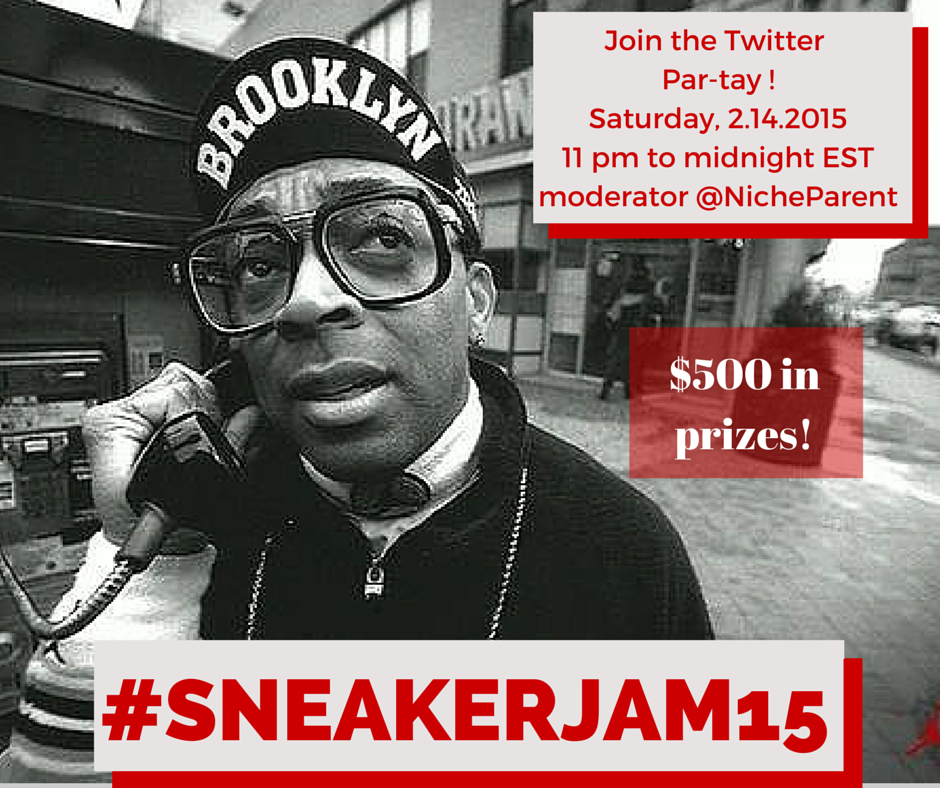 Do you remember when Southernplayalisticadillacmuzik by Outkast was the summer's hottest song? Outkast rapped about "sippin' on Martell." It was 1994, the year that the Nike IX's were the hottest sneaker, or "kicks" out there.  Spike Lee, Michael Jordan, and Nike had already teamed up for the Is It The Shoes? commercial.
For many years, sneakers, music, and cocktails have shared a unifying story that have defined decades of culture. Spike Lee has teamed up with four of Pernod Ricard's spirit brands, Martell Cognac, Avion Tequila, Seagram's Gin, and Absolute Vodka to host the ultimate party- Sneaker Jam 2015. This weekend, we'll be "raising a (virtual) glass" on Twitter and in Brooklyn, New York, as we continue to share the story that has impacted all of us. Whether you grew up watching Spike Lee films, wearing Jordan's, or just love fashion or hip hop, we know you'll love being a part of this super fun event.
We'll have influencers in New York reporting live from #SneakerJam15 event while the rest of us join them on Twitter for a late night par-tay like never before.
Join us Saturday, February 14, at 11 pm EST until midnight.  It will be epic!  And, we'll be giving out $500.00 in prizes including a $200.00 gift card to Nike.com for anyone that answers all the questions between 11 pm and midnight! To make it even easier to join, we're sharing the Twitter Party questions before the party.
#SneakerJam15 Twitter Party Questions
11:05 pm Q1 Sneakers have many nicknames. What do they call sneakers where you're from?  #SneakerJam15
11:10 pm Q2 Name a Spike Lee film that influenced you growing up? The way you dressed, music, etc. #SneakerJam15
11:15 pm Q3 Fill in the blank: Your favorite Spike Lee movie is ____. #SneakerJam15
11:20 pm Q4 What was Spike Lee's character's name in the infamous Nike commercials? #SneakerJam15
11:25 pm Q5 Fill in the blank: Spike Lee finished his first film while he was a student at ____ College. #SneakerJam15
11:30 pm Q6 True or false. Spike Lee directed music videos for Michael Jackson. #SneakerJam15
11:35 pm Q7 Name a movie or song that introduced you to your favorite cocktail. #SneakerJam15
11:40 pm  Q8 What's your fav? Snoop's Gin and Juice or would you rather be sippin' on Martell like Outkast? #SneakerJam15
11:45 pm Q9  What player or team are you cheering on tomorrow during the All Star game?http://ow.ly/J2lDO #SneakerJam15
11:50 pm Q10 Oprah chose Avión Espresso as part of her O-List. How do you drink your tequila? #SneakerJam15
11:55 pm Q11 Let's raise our glass to this awesome Twitter par-tay! Do you say cheers, salud, cin cin, or something else? #SneakerJam15
RSVP Now on Facebook by joining here bit.ly/snkrjam

Joining us? Click to Tweet and Enter to win a door prize! "Join me and @NicheParent for the #SneakerJam15 #TwitterParty, 2.14 at 11 PM EST Details here bit.ly/snkrjam15 pic.twitter.com/cVB8ivJc36"

Follow our co-hosts now, @XoXoLizza @StephanSpeaks @StacieinAtlanta @lisasamples @JusticeJonesie
#SneakerJam15 Twitter Party Official Rules: 
By participating in the Twitter party all entrants agree to these Official Rules, which are final and binding in all respects.
1. Twitter Party Defined. For all purposes of this contest, "Twitter Party" or "Party" refers to the #SneakerJam15 Twitter being held February 14, 2015 from 11 pm EST to midnight, February 15, 2015 on www.Twitter.com.
2. No Purchase Necessary To Win.
3.  Pre-Party Entry Period Entry. Participants are automatically entered to win an initial prize at the start of the party by participating during the Pre-Party Entry period. The Pre-Party Entry period is from February 13, 2015 9:00 AM EST to February 14, 2015, 10:50 PM EST. To enter the contest during the Pre-Party Entry Period, participants must 1.) follow moderator on Twitter at https://twitter.com/nicheparent using a non-private Twitter account  and 2.) share a pre-party promotional tweet using #SneakerJam15 and inviting fans to join the Twitter Party by RSVP'ing on Facebook at bit.ly/snkrjam.   There is no limit to the number of entries you may submit during the Pre-Party Entry period.
4. Twitter Party Entries. Participants posting to Twitter during the Twitter party between February 14, 2015, 11:00 PM EST and until the party is officially closed are entered to win one of multiple prizes offered during the Twitter Party.  Only entries using #SneakerJam15 are considered.  Entries may not violate Twitter's Terms of Service, any applicable federal, state, or local laws or regulations. Niche Parent Network & Conference in its sole discretion determines whether entries are valid for this contest.
5. Selection of Contest Winners. Must be 18 or older and a resident of the United States to win.Winners may not substitute, assign or transfer a prize or redeem a prize for cash, but Presenter reserves the right, at its sole discretion, to substitute a prize with one of comparable or greater value. Winners agree to comply with all applicable terms and regulations in connection with the prize. The winner is solely responsible for all other costs and expenses. Winners will be selected at random among all eligible Entries received during the entry periods. All winners will be verified and must claim prize within 24 hours of being declared a winner by completing this prize form properly.  Potential winners may be asked to supplement form as proof of entry or otherwise. Failure to complete form properly and within claim period voids winning.