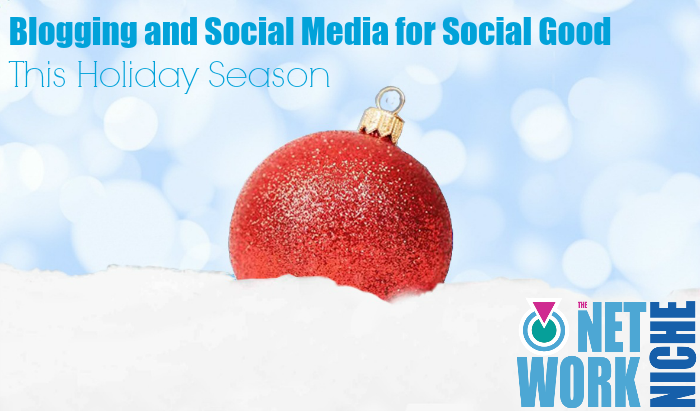 31 Oct

Blogging and Social Media for Social Good This Holiday Season

As we near the holidays, there will be an abundance of pushes to consume, consume, consume. Influencers will receive countless pitches for products to feature in holiday gift guides.  It can be easy to get lost in the holiday frenzy. Meanwhile, there are plenty of charities and non-profits that could benefit from your blog's influence this season.  For inspiration, check out 25 Best Social Media for Social Good Blogs. Below are some suggestions on how to take part on blogging for social good this holiday season.

RELATED POST: How to Use Your Blog for Social Good
Social Media for Social Good
Be a part of a trend. Remember the Ice Bucket Challenge to support ALS? Dawn Alexander from Cheap is the New Classy explained the right and wrong ways to participate.
Interview CEOs of local non-profit organizations. Explore the challenges and opportunities the organization has at the end of every year. Look ahead to what's next in the new year. Profile a volunteer or employee in a blog post.
Take a tour. Spend a day or several hours touring a local or state organization's offices.  What's it like to be a driver for Meals on Wheels? Share the experience on Periscope or other social media channels.
List local donation centers. This is an ideal opportunity for frugal and financial bloggers. Include the places to make end of the year donations and the hours. Bonus,  you get a tax write off for the end of the year.
Feature fundraisers. Holiday balls and galas are major fundraising sources for non-profit groups. Create a calendar of upcoming fundraising events so your audience can attend if they'd like.
Write a guest post or edit a post for a non-profit's blog. Contribute your expertise to a non-profit by offering fresh content for your audience. Look at the organization's past blog posts and offer to edit the content so it looks professional.
Provide free ad space. Offer space in your blog's side bar or in your newsletter at no cost to feature a social good campaign you decide to support.
Donate your expertise to a non-profit. Create a social media strategy, write a social media handbook for employees or write a press release for the organization's next event. Or offer to do a social media training.
Include your blogging for social good blog posts and social shares in your media kit, so brands can see you're a well-rounded influencer who works for compensation, as well as for social good.
Our CEO Nadia Jones just returned from Guatemala with a group of influencers to feature the Unbound.org organization and how their program's help support children and families in need via sponsorships. Nadia along with four other social influencers documented their experiences online and through social media. Through their work, they were able to help get new families sponsored through the Unbound program.