18 Oct

Here's a Month Full November Blog Post Ideas

For influencers who notice a slight dip in traffic over the summer months when their audience is out enjoying the warmer weather, Fall and Winter are a welcome traffic opportunity. One way to maximize on holidays traffic is to create new content daily. November is National Blog Post Month  (#NaBloPoM0) where content creators follow personal prompts to blog daily. You can also find some flexibility with the  November Blog Post Ideas we've shared below.

1. National Author's Day – Interview local authors; profile local author's day events.

2. Deviled Egg Day – Share your spin on the popular recipe.

3. Chemistry Week – How are local libraries, universities and colleges promoting chemistry?

4. Daylight Saving Time Reminders & Preparation

5. Favorite Fall Fashions from Your Closet

6. Best Places to Visit in the Fall

7. Election Day Freebies (First Tuesday in November)

8. Fall Date Ideas

RELATED TOPIC: 31 Winter Travel Blog Post Ideas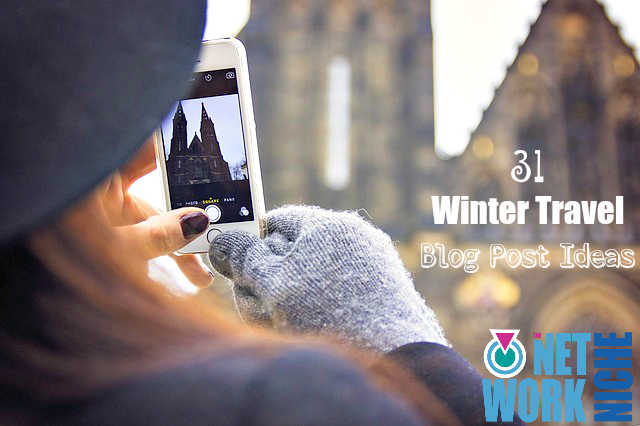 9. Best Places Where You Live to Watch the Leaves Turn
10. Veteran's Day: Ways to Support Local Veterans
11. Native American Heritage Month – Profile a historian about Native American settlements and landmarks near you.
12. Peanut Butter Lover's Month – Share your favorite peanut butter recipes. Are there nearby peanut farms?
13. Sadie Hawkins Day – Discuss the history of the day where girls ask boys to a dance.
14. World Diabetes Day – Profile local support groups for diabetics; Are local colleges and universities doing diabetes research?
15. Favorite Fall Makeup Looks
16. Week Before Thanksgiving To-Do List
17. Profile Local Thanksgiving Day Parades and Traffic Plans
18. Fall Craft Ideas with leaves, acorns, etc.
19. Fall Fashion Finds at Local Consignment Stores
20. Create a Map of Local Pumpkin Picking Opportunities
21. Pumpkin Carving Tutorial or Stencils
22. Fall Photography Ideas
23. Gratitude Journal Ideas
RELATED TOPIC: How to Easily Promote Your Thanksgiving Content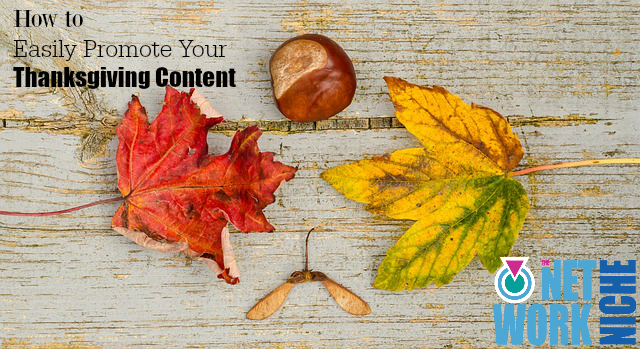 24. Thanksgiving Leftover Ideas
25. How to Get Your Diet Back on Track After Thanksgiving Dinner
26. Fall Checklist for Home or Car Maintenance
27. How to Plan a Winter Bucket List
28. National Adoption Awareness Month – Profile an adoptive family or adoption coordinator.
29. Black Friday Shopping Preparation Ideas
30. Easy Goals to Accomplish Before the End of the Year
Comment below: Are there any November Blog Ideas that connected well with your audience in the past? Have you started working on a holiday gift guide?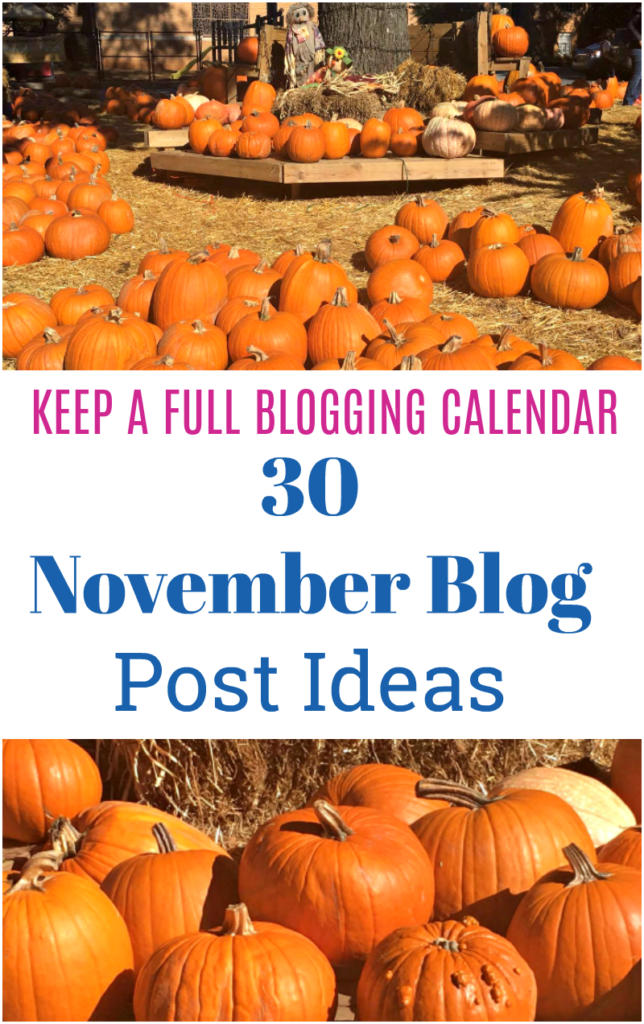 RELATED TOPICS:  30 September Blog Post Ideas | 31 October Blog Post Ideas | 4 Recipe Plugins You'll Want to Install